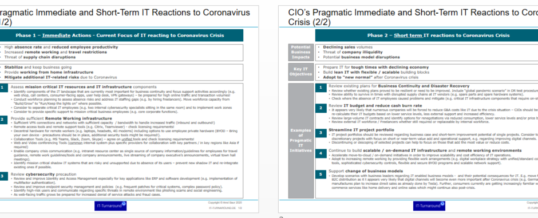 Was sind pragmatische IT-Maßnahmen des CIO als Reaktion auf die Corona-Krise? CIOs, IT-Leiter und andere IT-Verantwortliche kämpfen gegenwärtig gegen die Auswirkungen der Coronavirus-Krise auf das Geschäft. Hier eine Auswahl an pragmatischen Maßnahmen und Initiativen, mit denen IT-Verantwortliche auf die Krise reagieren können: Erstens Sofortmaßnahmen, um Remote-Arbeit / Home Office zu unterstützen und die Systeme zu stabilisieren. Zweitens aber auch Maßnahmen, die kurzfristig danach sinnvoll sind, um die IT an die Zeit nach der akuten Krise anzupassen und entsprechend aufzustellen (2 Seiten PDF – Datei).
Pragmatische IT-Maßnahmen als Reaktion des CIO auf die Corona-Krise – English version von LinkedIn: CIO's Pragmatic Immediate and Short-Term IT Reactions to Coronavirus Crisis:
Currently, CIOs I talked to are fighting against the impacts of Coronavirus (COVID-19) crisis. The current focus is on enabling remote work and stabilizing IT operations. However, it appears very likely that the business impact of Coronavirus crisis will require CIOs to cut costs and prepare for a post-crisis – already in the short term. I tried to summarize both current und short-term pragmatic IT reactions on two pages.