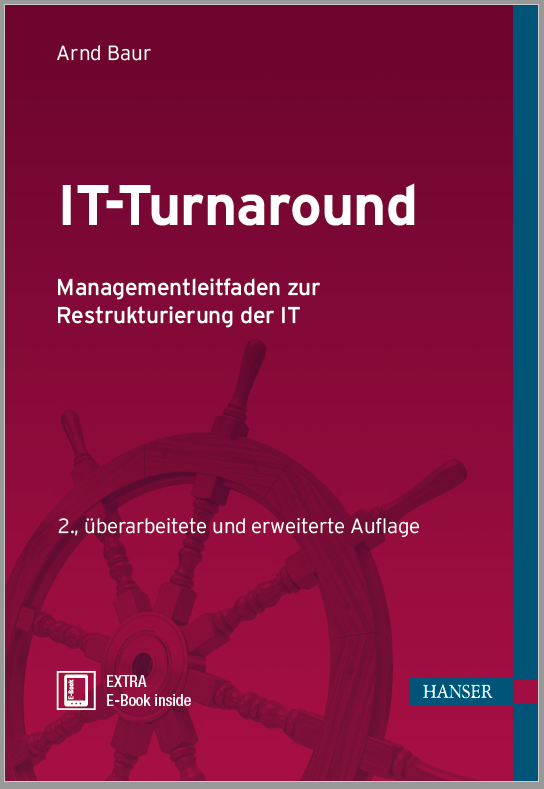 What should an IT manager who has run into trouble and been asked to "clean up" IT should do?
What does a CIO (Chief Information Officer) do when he takes office find a company IT in which employees are demotivated, in danger of failing projects and, moreover, perhaps the IT costs are getting out of hand? How can a board responsible for IT recognize a crisis in IT and understand what special prerequisites, fields of action, processes and pitfalls accompany a turnaround in the IT sector?
Objective of the book:
The IT Turnaround book provides assistance in these situations and explains the concept of the IT turnaround or IT restructuring.
IT restructuring is a set of tasks that can be used in the event of a troubled IT department of companies and/or in the context of restructuring (or turnarounds, refurbishments) of companies as a whole. The main aim here is to:
quickly identify the most threatening deficits in IT (e.g. existing IT risks/threats, excessive IT costs, emigration IT staff, lack of governance structures, lack of acceptance/standing of IT in the company, etc.)
develop and implement immediate measures to stabilise the IT sector,
to define the course for the recovery of the IT sector and to detail it in the form of a roadmap and
turn the IT sector back into an effective and efficient part of the company in the medium term.
The book was rated by getabstract with 8 out of 10 points!
The author has written a management guide that accompanies the reader step by step in the IT turnaround. First of all, the comprehensible and obvious spelling is commendable. The author not only says how the turnaround succeeds, but also very concretely what to do.–getabstract
The book specifically emphasizes the aspects that experience has shown to be particularly important in crisis areas. With the special situation "IT crisis" the normal processes and the usual tools of IT management fade into the background. A different approach is needed, which takes into account the usually high need for action and the corresponding time pressure. In the shortest possible time, transparency about the state of IT must be established and appropriate measures must be taken. The focus is on pragmatism, focus and the rapid implementation of the identified improvement measures. In addition, the IT restructuring is parallel to the usual day-to-day business of IT (e.g. IT operation, user support, implementation of projects). This leads to an additional high burden on the persons involved.
Thematic focus in the book:
Symptoms and signs: Identification of a crisis situation in IT
Typical causes of IT crises
Methods of corporate restructuring and their suitability for an IT turnaround
Requirements for the CIO / IT manager in a crisis situation
Tasks of top management in crisis management
Emergency risk identification and crisis response measures
Ways to standardize IT and reduce complexity in IT
Cloud-based application strategies
Assess the suitability of bi-modal structures in IT
Prioritize and carry out digitisation projects
Digitalization pressure in the event of crisis-ridden IT: Opportunities for CIOs to act
Designing the "Retained IT Organisation" after outsourcing
Turnaround of distressed IT projects
Concrete levers to reduce IT costs.
Determination of the appropriate IT manufacturing depth or the scope and expediency of outsourcing or Cloud services
Treatment of the so-called shadow IT, i.e. of the software and hardware used in the departments of decentralized and often without the involvement of the central IT department
Development trends for future-oriented IT areas
Essential elements of IT governance
Necessary processes between IT and departments or IT customers
Sustainable implementation of changes through targeted change management
Help you select external help for an IT turnaround
The author has written a management guide that accompanies the reader step by step in the IT turnaround. First of all, the comprehensible and obvious spelling is commendable. The author not only says how the turnaround succeeds, but also very concretely what to do.–getabstract

Author and interim manager Baur shows in which three-way battle of operational guarantee, business support and crisis management ARE located BY IT managers and how they can master this strenuous phase. –CIO Magazine, May 2015

This book describes succinctly and very easily the main levers in an IT restructuring. It turns out that proven methods of turnaround management can also be used to deal with a crisis in corporate IT.–Dr. Jens Köppen, Finance Director Restructuring, Metro AG

The book "IT Turnaround" contains numerous implementation-oriented approaches, methods and practical examples that are useful in a restructuring of the IT area.–Markus Fichtinger, CIO, Klöckner Pentaplast GmbH

In times of increasingly complex information technology requirements, which are also reinforced by externally driven framework conditions, it may happen that the essentials fall out of focus. This book highlights the pitfalls and shows practical solutions for an IT restructuring. The most important fields of action with which challenging situations in corporate IT can be mastered are addressed in a targeted manner. –Lothar Herbst, Board Member Human Resources and IT, Mainova AG

A major issue in the restructuring is the reliability and flexibility of the processes and their mapping as a basis for figures (turnover, costs, results, cash flow). IT, its organizers and performance is an important topic that is often underestimated. This book shows in concrete examples the challenges and options for action in the redesign of a crisis-ridden IT in companies.–Karl-J. Kraus, Karl-J. Kraus & Partner, Berlin
Further information on the book:
Please recommend the book